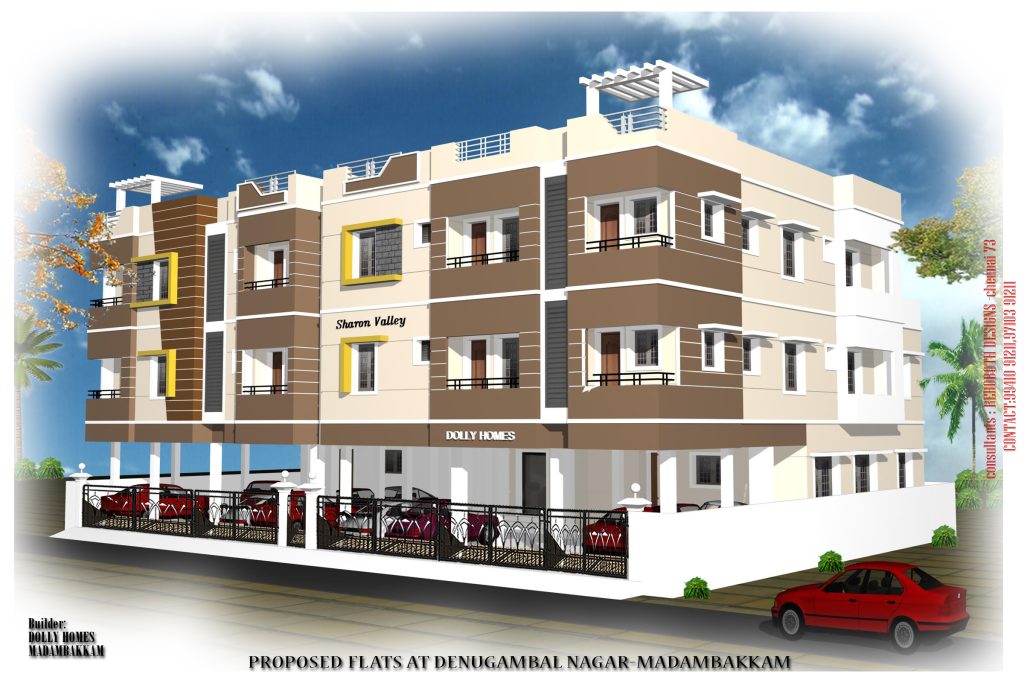 Flats in Selaiyur – Dolly Homes brings you a Premium Gated Community Residential Property – DOLLY AVENUE inside Tiana Sky City which is located at the Vengambakkam Main Road – very close to Zion International School, Mopedu near Selaiyur, East Tambaram. The total distance from Velachery Main Road (Camp Road Junction) to our site location is about.
DOLY AVENUE contains 15 architect designed independent 3BHK villas with excellent floor space optimization, with independent Covered Car Parking. A bore well with adequate depth provides ample water supply for 24 hours. Excellent Ventilation and Lighting has been provided to add grace to the Villas.
You can define your own lifestyle by choosing one of our villas suiting your requirements. It is always a PRIDE TO OWN a villa from Dolly Homes.
DOLLY AVENUE is located on the Vengambakkam Main Road in a nicely planned out Residential Area surrounded with prominent Schools, Colleges, Commercial Establishments, Banks, Super Markets and Health Clubs.
Possession : Ready to occupy from September 2022
Flats in Madambakkam –Dolly Homes Builders and Promoters is an Innovative Construction Company accredited with ISO 9001:2015 certification. We focus on building high end Residential Apartments, Independent Villas, Interior work and Building Lifting services in Chennai. Dolly Homes is managed by a Team of highly experienced and talented Management Team with its unique motto "Defining Lifestyle". Our most important trait is going after Customer Delight.
We employ very experienced Architects and Structural Consultants who are veterans in this field to deliver innovative Space Management solutions combined with elegant External Elevations.
At Dolly Homes there is no compromise on quality and excellence. Good is what you Demand and BEST IS WHAT WE DELIVER to achieve Customer Delight. Every Project of us is a Masterpiece by itself.
The professional management approach is evident in our projects. We are quite flexible to our client needs and do not dictate terms with our clients. Our clients truly appreciate our quality, flexibility and on time delivery. This is proven by the fact that most of our sales happen through word-of-mouth and not by media advertising. It's a community built on friendship and trust.
One of the biggest reasons why you should choose us is because we at Dolly Homes never compromise on quality. It is our topmost priority and Brand Promise. Due to our focus on quality, all our projects are way above expected standards. And how do we achieve this? We employ very experienced Design Engineers, Architects, Structural Consultants and Vaasthu specialists right from the conceptual stage of the project to the detailed plans and structural design.
During construction stage our Site Engineers ensure meticulous implementation of all the details with complete devotion. We always use Class A type material for construction, seasoned Teakwood, well known branded Tiles, CP fittings, Closets, and Electrical items. We also ensure to deploy the best masons, carpenters, painters, plumbers and electricians to get the finer aspects of quality and elegance. We ensure that even the tiniest details are attended to and our customers get the home that offers them nothing but the best.
Dolly Homes Builders and Promoters is an Innovative Construction Company Which focuses on Building high end Residential Apartments, Independent Houses, Interior and Institution Infrastructure in Chennai.
Dolly Homes war Founded and managed by the erstwhile Corporate Executive Mr D. Davidson who Comes with a Global Experience in managing largr scale Projects and Infrastructure for Companies Like Capgemini, HCL,DSQ and also the Ministry of Defence, Government of India. He is a Post Graduate in Engineering from the indian Institute of Technology, Madras.
Ethics and Quality" are the two driving factors in all aspects of our business. In DollyHomes we never compromise on these two areas to ensure value for your money and customer delignt.
We set ourselves apart from every other construction company simply by our strong philosophy and our work culture.
We are our own competition and through every project, we set new standards.
DOLLY HOMES was founded and managed by the erstwhile Corporate Executive Mr. D.Davidson who comes with a global experience in managing large scale projects and infrastructure for companies like Capgemini, HCL, DSQ and also the Ministry of Defence, Government of India. He is a Post Graduate in Engineering from the Indian Institute of Technology, Madras – 1983 batch.